Editor choice
KAIWEETS KM100 Digital Multimeter with Case, DC AC Voltmeter, Ohm Volt Amp Test Meter
KAIWEETS KM100 Digital Multimeter with Case, DC AC Voltmeter, Ohm Volt Amp Test Meter and Continuity Test Diode Voltage Tester
Last updated on August 4, 2022 4:56 am
Disclosure
Highlights
Multi-Function: This multimeter can test AC/DC Voltage, DC current (Can not for AC current), Resistance, Continuity, Diode Measurement.
Sensitive Test: Please make sure the rotary switch is located at the right test range. Data hold function, backlight function helps you test clearly and quickly in a dim place.
Safety Operation: IEC Rated CAT III 600V, CE and RoHS certified. Anti-Burn with double fuses. This multimeter has overload protection on all ranges.
Widely Used: The Digital Multimeter is designed to be safe and accurate, and suitable for electrician test, household use, automotive, industrial electrical problems.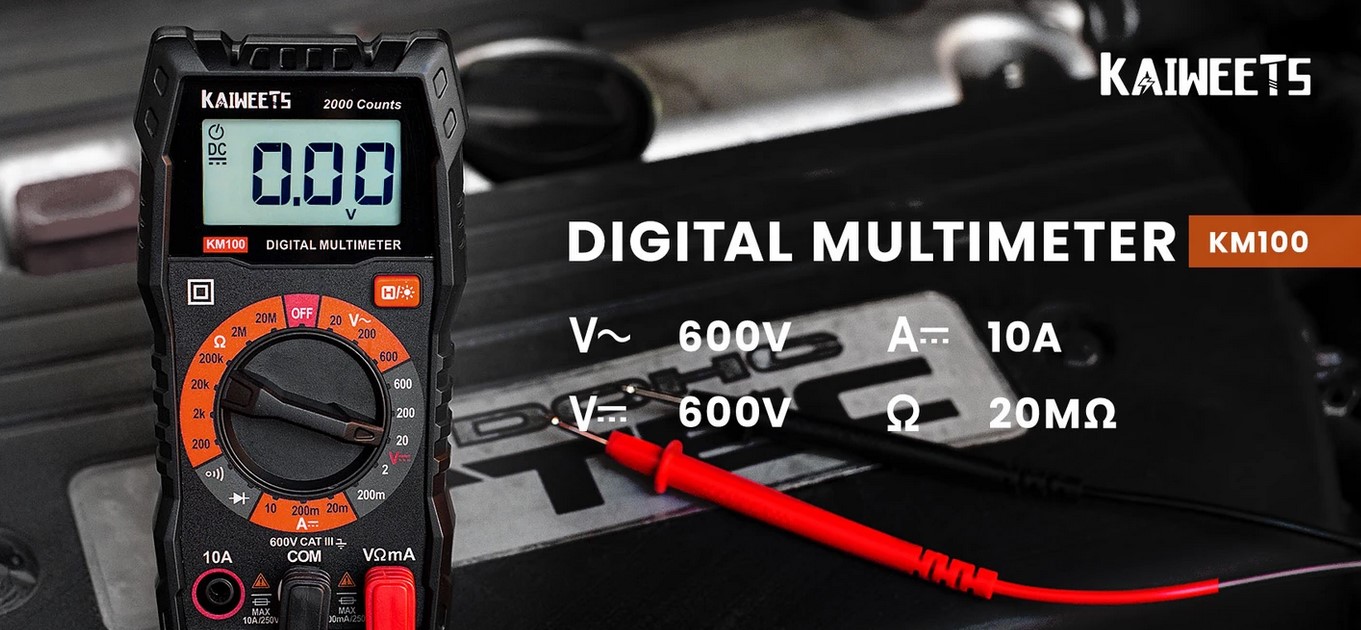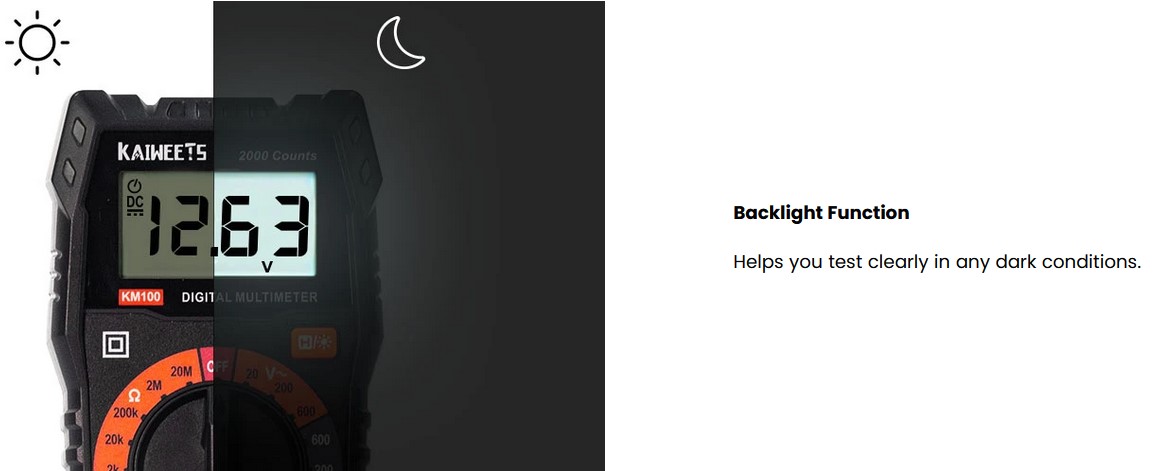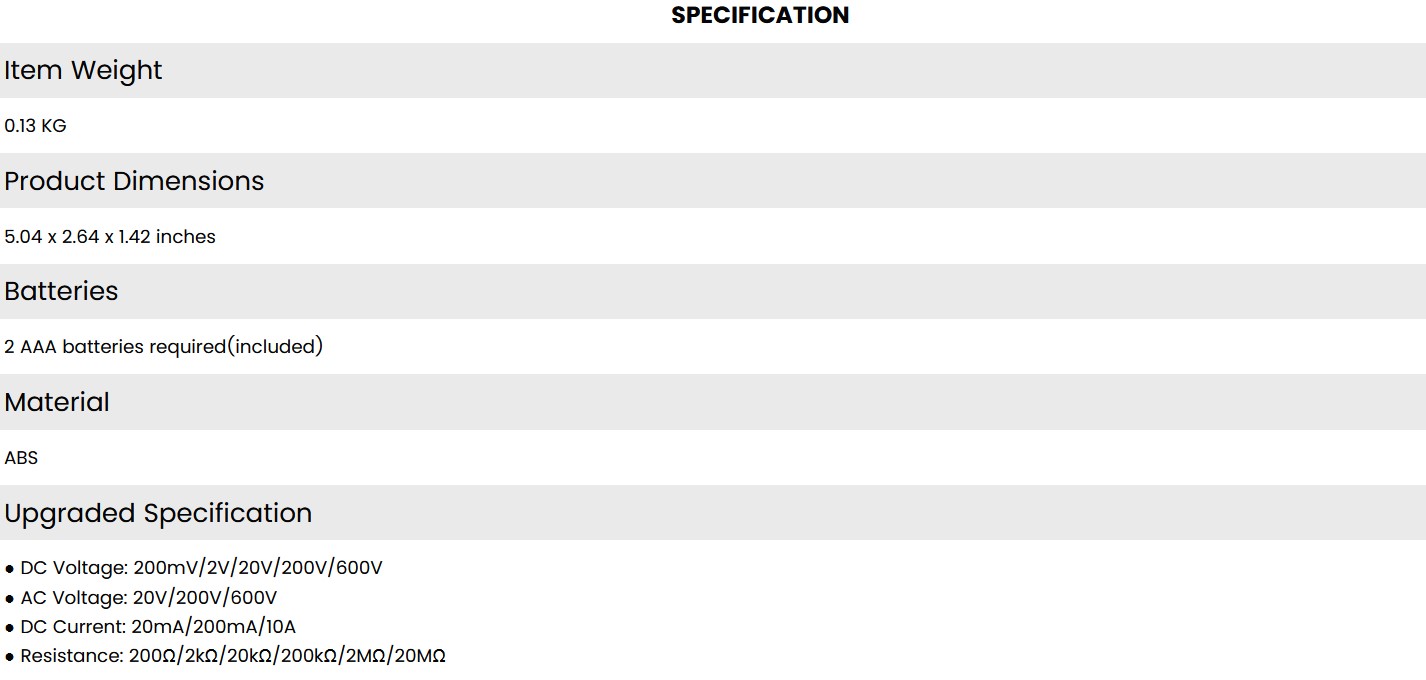 Specification
General
Brand: KAIWEETS
Type: DIGITAL MULTIMETER
Model: KM100
Color: black
Specification
Maximum Display 2000 Counts
AC Voltage 20V/200V/600V
DC Voltage 200mV/2V/20V/200V/600V
DC Current 20mA/200mA/10A
Resistance 200Ω/2kΩ/20kΩ/200kΩ/2MΩ/20MΩ
Flashlight/Backlight Backlit
Batteries 2 AAA batteries required(included)
Material ABS
Weight & Size
Product Weight: 0.13kg
Package Weight: 0.13kg
Product Size(L x W x H): 12.8*6.7*3.6cm
Package Size(L x W x H): 12.8*6.7*3.6cm
Package Contents
1x KAIWEETS KM100 Digital Multimeter
2x Test Leads
2 x 1.5V AAA batteries
1x Multimeter Bag
1x Instruction Manual
Customer Reviews
| | | |
| --- | --- | --- |
| 5 star | | 47 |
| 4 star | | 2 |
| 3 star | | 2 |
| 2 star | | 0 |
| 1 star | | 0 |
Promocode is not required.
Sale price: 46.99$
Duty Free shipping
US Warehouse.
45%OFF
Start date: April 18, 2022
End date: May 31, 2022

Available in all countries, except: RU, UZ, AM, KZ, TJ, BY, MD, AZ, TM, KG, GE, UA
35%OFF
Start date: May 2, 2022
End date: May 6, 2022

Specification:
KAIWEETS KM100 Digital Multimeter with Case, DC AC Voltmeter, Ohm Volt Amp Test Meter
| | |
| --- | --- |
| General | Brand: KAIWEETS, Type: DIGITAL MULTIMETER, Model: KM100, Color: black |
| Specification | Maximum Display 2000 Counts, AC Voltage 20V/200V/600V, DC Voltage 200mV/2V/20V/200V/600V, DC Current 20mA/200mA/10A, Resistance 200Ω/2kΩ/20kΩ/200kΩ/2MΩ/20MΩ, Flashlight/Backlight Backlit, Batteries 2 AAA batteries required(included), Material ABS |
| Weight Size | Product Weight: 0.13kg, Package Weight: 0.13kg, Product Size(L x W x H): 12.8*6.7*3.6cm, Package Size(L x W x H): 12.8*6.7*3.6cm |
| Package Contents | 1x KAIWEETS KM100 Digital Multimeter, 2x Test Leads, 2 x 1.5V AAA batteries, 1x Multimeter Bag, 1x Instruction Manual |
15 reviews for
KAIWEETS KM100 Digital Multimeter with Case, DC AC Voltmeter, Ohm Volt Amp Test Meter